The Terrace for business
The Terrace for business provides flexible functionality suited for a wide range of outdoor retail spaces and businesses looking to do more with their TV, while not overburdening staff with complicated features.
From menu boards to providing advertising and promotion alongside TV programs, The Terrace for business is the perfect solution for businesses looking for a straight forward and effective way to communicate with customers.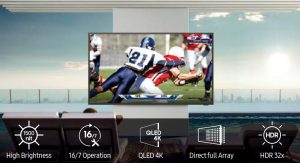 Ultra-bright picture quality
With 4K QLED and the ability to deliver up to 1,500 nit brightness levels, you can now experience superior picture quality and optimized visibility for outdoor environment, powered by 16/7 operation, perfect for meeting the demands of your business.

Anti-reflection
The Terrace for business features impressive anti-reflection technology, greatly reducing TV reflection and glare while also enhancing picture contrast levels to ensure customers can clearly see branding and messages for an engaging content experience, even in direct sunlight.

Adaptive Picture
Surroundings change, picture stays perfect. Actively adapt to the viewing environment by automatically adjusting the brightness. Experience perfect picture, no matter what time of day or the content your customers are watching.

QLED 4K 120Hz
Colour Volume 100% technology delivers rich and accurate 4K QLED colour quality, even in the sunlight. An impressive, high-speed 120Hz refresh rate cuts out the blur between fast-paced images for an ultra-smooth viewing experience when watching sports, movies, and more.

A TV designed to enjoy outside
The Terrace for business is your year-round business solution for outdoor entertainment. No matter the season, its IP55 weatherproof rating delivers perfect performance and protection from the outdoor elements including humidity, dust and heat.
Contact Us today or call 01204 377 692 to discuss Samsung's 'The Terrace' for your business with a member of our expert team.
* Protection from water and dust based on IP55 (International Protection Rating) standard and operating smoothly at temperatures between -31℃ to 50℃.
* When temperature is -4ºF to -24ºF(-20ºC to -31ºC), it is mandatory to store TV inside with complete packaging or apply power and activate Outdoor Mode.
* IP55 (Ingress Protection Rating): Degrees of protection provided by enclosures (IEC 60529).