Healthcare
The dedication and drive of TVC, combined with our full-circle solutions, has allowed us to provide innovative and cost-effective audio-visual solutions for your residents.
We understand that every aspect of the residents' care is of the utmost importance and that's why the healthcare audio-visual solutions we provide are designed with your residents in mind. We understand that white goods and small domestic appliances are essential for many businesses. Here at TVC we understand the need for products such as kettles, toasters, microwaves, washing machines, fridges & freezers and many other items too.
Specialist equipment
For long term commercial usage, we can also advise on our range of products specifically designed for use in the healthcare industry. Keep your healthcare flooring areas clean and sanitary, TVC can supply a wide range of equipment from Vacuum cleaners to carpet and upholstery cleaners to floor scrubbers.
TVC provides a full range of TV, audio and multimedia solutions for care and nursing homes and is one of the UK's leading suppliers, installers and integrators of digital television. Our game-changing innovations are leading the way in providing care and recreational solutions to meet your residents' needs. We partner with the main manufacturers of hospitality and domestic TV, Philips, Samsung, LG and Mitchell & Brown to provide care homes with high-quality digital LED screens with tailored features such as menu locking and volume limitation, in a variety of sizes. All our installations feature industry-leading control systems for ease of use.
Home cinemas
Utilising the latest technology, TVC ensures you get the best picture and best sound possible for that genuine cinema experience. We use specialised home cinema products designed to deliver all the dynamics and beauty of the movies. Our infrastructure has the capability to manage every aspect of the installation from concept to completion. Installations can include full automation allowing you to control lighting, curtains, temperature and in fact everything at the push of a button. We handle all aspects from the planning and design to the installation and commissioning with a full consultation every step of the way.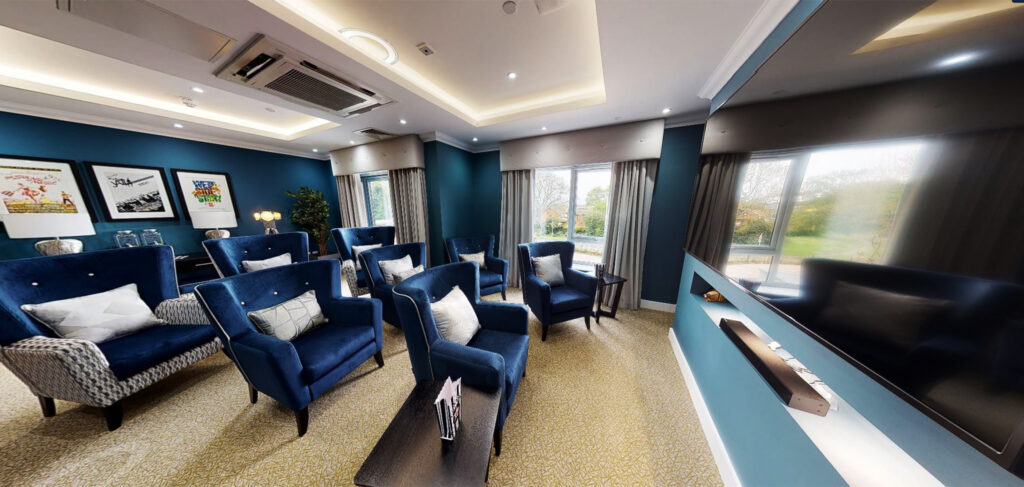 Our tailored care home options make these cinema rooms accessible to all, with 4k Smart LED screens to deliver a crystal-clear image, and Digital to Analogue Audio converters, so that the hard of hearing residents can enjoy the experience as well.
Installations and solutions
At TVC the pursuit of customer service excellence is second to none. We endeavour to provide the best customer service in everything we do. The TVC team prides itself on demonstrating the highest levels of commitment and are able to provide healthcare solutions with minimal disruption to your organisation.
We realise that not every healthcare provider will have the same requirements and budgets, with this in mind we focus our knowledge to provide our customers with an affordable healthcare audio-visual solution that will improve your residents' experience and environment.