Outdoor TV
We are experts in outdoor TV. For commercial or domestic use, a TV installation outside adds enjoyment to many spaces. And because they're still something of a novelty, an outdoor TV screen will get noticed – so they're ideal for promotional messages.
Whether it's a full video wall in a leisure set-up, display boards for wayfinding and messaging in hospitality or just a full HD TV screen to watch live sport, having a digital screen outside really makes an impact.
A full installation with an outdoor display and outdoor speakers is now not as expensive as perhaps you might have thought, so read on for more info on outside TV from TVC.
What to look for in an outdoor TV
Any outdoor TV must withstand the elements and can also offer high brightness so it works in direct sunlight.
Being weatherproof isn't just about moisture protection either; there's condensation, dust and dirt to consider too.
All outdoor electrical appliances have an IP rating. This is an international standard that sets out how resistant it is to the ingress of dust particles (the first number) and how moisture resistant it is (the second.) As a rule, the higher the number, the better it will protect.
Check out our IP rating chart to get an understanding of what some of the more commonly-seen ratings mean.
Waterproof TV
At TVC we can specify and install a fully waterproof TV system with a suitable IP rating dependant on its intended siting: exposed or sheltered, shaded or sunlit.
We'll usually specify models rated IPx7 waterproof (normally IP57 or 67) depending on location. Having a suitably weatherproof TV (with the option of a waterproof remote control as well) is especially important in commercial applications where reliability is essential.
IP Rating
So what does IP rating mean? Simply, it's how dust and waterproof an electrical item is.
Check out our IP rating chart to discover the difference between IP65 rating and IP66.
When we're specifying waterproof TV we'll take careful note of the IP rating to ensure it meets the requirements of your installation.
Anti-glare screen
Any outdoor TV screen should offer high brightness to ensure good pictures in daylight. Often an anti glare screen is fitted which makes it easier to view in partial or full sunlight.
These TVs are normally equipped with anti reflective glass and have an extra bright screen.
There are different types of non reflective TV; depending on your application and siting, TVC will specify the one that'll be ideal for you.
Heat resistant TV
It's important to consider that outdoor TVs may get extremely hot when in direct sunlight. Also, humidity can be a major issue in certain locations (like a garden centre or swimming pool.) Additionally, all weatherproof high brightness displays generate a fair amount of heat themselves.
So an outdoor heat-resistant TV will include a temperature control system to keep it working reliably, even when temperatures and humidity are challenging.
Frost resistant TV
As well as extreme heat, any weatherproof TV needs to be frost resistant.
Any outdoor installation in the UK will need a waterproof TV that also has an inbuilt temperature control system to keep it at its optimum operating condition to mitigate against internal condensation – the traditional enemy of electrical devices outdoors.
Dust proof TV
It's essential for any outdoor installation that every TV screen is dustproof. Even over a short time, it's amazing the amount of debris that will cover the enclosure of any outdoor TV, no matter how sheltered it is; so just imagine what damage it could do if it got inside.
That's the part of IP ratings that people don't consider as much – but it's equally important.
Outdoor LED screen
Installing an outdoor LED screen makes a great impact.
We consider these factors when specifying outdoor TV:
• Brightness and refresh rate: Will the screen go bright enough for the siting bearing in mind light levels when it's most used, and will the refresh rate be sufficient for the type of pictures it'll display?
• IP rating: Does the chosen LED TV screen have a suitable IP rating for the siting? That is to say, will it be sufficiently waterproof / temperature resistant?
As a rule of thumb, you pay more for a bright screen than a regular output one, so when we specify any high brightness screen, we consider all the factors above carefully to ensure we deliver the best value.
This is especially relevant when we specify a video wall installation for outdoors as these are multiples of a high brightness screen, and all must work 100% for the video wall to have impact.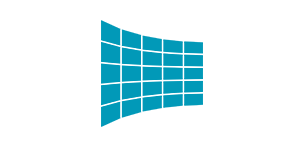 Video wall
A video wall installation is made up of a number of individual screens, normally in a grid. Each digital screen can be swapped out individually for servicing. If they are sited outside, there are special considerations for housing and mounting them and each component must be appropriately IP rated.
Video walls make a massive impact and are often used to replace traditional billboards at the roadside – you've probably seen them whilst driving around. So they're ideal for digital screen advertising.
Full HD
As a minimum, all screens we specify for outdoors and especially video walls outdoors are HD. In many case 4K is recommended as the technology becomes increasing reliable and cost-effective.
Video walls require very high-quality signals to drive them as the images are 'blown up' so much on the wall, and any imperfections are immediately visible.
Our tip is to invest in high quality origination for all material destined for a video wall. After all, some video walls can be as big as cinema screens.
Refresh rate
Video walls are generally server-controlled and with many displays, high frame rates are now possible. This, as well as using screens with a suitable fast refresh rate, will ensure that flickering is reduced to a minimum.
In the last few years, more screens with fast refresh rates have been launched, so we can now specify suitable outdoor screens to create the ultimate video wall for the biggest impact.
Bezel
When creating an outdoor video wall, it's important that we specify TVs with the thinnest possible bezel. We want to viewer to be so engrossed in the content that they don't notice the lattice of bezels.
Indoor TVs can now offer what is in effect a 'bezel less screen' but there are additional factors to bear in mind for outdoor TV, which inevitably makes the bezels just slightly wider. However, compared with models produced only a few years ago, they're now very much narrower.
Pixel pitch
When we refer to pixel pitch we refer to the density of pixels on a screen. A smaller pitch means high pixel density – so higher resolution. Higher resolution means that a pictures with a high contrast ratio can be effectively displayed and even if you get close to the screen you won't be able to make out individual TV lines or pixels.
So, for individual displays we suggest going for higher resolution screens. But for video walls, individual resolution isn't as important as a higher refresh rate or frame rate, as no one will be that close to it.
Modular system
All video walls are constructed as a modular system with individual TVs mounted on a frame, and in the case of outdoor video wall installations, often inside a housing. It means the screens are placed as close as possible to each other, left/right and up/down so that the individual bezels are a lot less noticeable.
The advantage of a modular system is cost and convenience:  individual screens can be swapped out quickly when required, minimising downtime; cost-wise, video walls of different sizes can be built using the same 'building blocks' of screens, minimising complexity.
Outdoor speakers
Video is nothing without sound. You'll more than double the impact and reach of your messages with decent-quality outdoor speakers. Hi-fi quality audio is now possible almost anywhere with the latest advances in outdoor sound systems. Ask our experts for ideas to get superb sound all through your property, indoors and out.
From self-powered Wi-Fi speakers that minimise speaker wiring and outdoor cable to waterproof remote controls, we have experience of installing large-scale outdoor speaker systems in many types of business including hotels, hospitals and retail environments.
Waterproof speaker
When considering speakers for any outdoor installation, having a reliable and natural-sounding waterproof speaker is just one consideration; it's also important to bear in mind dust ingress and extremes of temperature and humidity. They all have a bearing on what is possible – as well as your budget.
Yet another consideration is whether you mind the speakers being visible or whether you want them hidden. TVC can advise on the siting of speakers at the specification stage of any installation.
Beam steering
For focussed audio in large exterior environments, beam steering speakers are available. These clever devices 'steer' the sound in a particular direction.
Simple systems just point sound 'down' from an overhead speaker whilst more complex software-driven DSP systems can aim high quality concert sound at an audience with little spillage into adjacent areas.
At TVC we have experience of specifying and installing systems of this nature and work closely with the manufacturers to keep abreast of technical developments in this rapidly-changing field.
Outdoor digital signage
Outdoor digital signage can be effectively used outside and there are many applications, including retail, leisure and travel facilities.
Using full HD systems, digital signage can be displayed almost anywhere and get its data by IP, wireless or cellular. This makes it ideal for digital screen advertising or display boards. At TVC, we have the knowledge to create a system for almost any task.
From one outdoor digital screen to a national network – we can deliver. Read more about digital signage here.
Outdoor TV enclosure

If you are considering an outdoor TV for occasional use, especially in the home or for a small-scale commercial setting, it may be possible to use a domestic one in a specialist outdoor TV enclosure, provided it has sufficient brightness. It's a cost-effective solution for an outdoor TV screen and has the added advantage of offering security, as it locks.
Outdoor TV cabinets we specify are also heat, frost and condensation protected, offering an ultra-secure Lexan TV screen protector and a variety of mounting solutions including standard VESA.
Outdoor TV screen vs outdoor TV enclosure
Outdoor TVs are great! They deliver super-bright pictures and are pretty indestructible as far as the elements are concerned. However an outdoor TV screen will cost considerably more than a domestic TV of the same size and spec.
This is due to the ruggedised construction and specialist nature of the TV. But they will last, and they will operate under all sorts of weather conditions giving a great picture.
The cost-effective alternative is to use a domestic TV within an outdoor TV enclosure. Because the screen is covered by a tough plexiglass-type plastic, pictures are not so sharp and the enclosure itself tends to make the TV look a little bulkier. It's your choice!
Request a quote
Get in touch with our friendly team using our handy contact form below...
Contact Us