Hotels
Although not the main reason your guests will visit your hotel, audio-visual aspects are becoming more important than ever in the industry, with consumers expecting more and more from their experience.
Here at TVC, we draw upon over 25 years' experience to deliver the best AV solutions for hotels and conference centres.
We supply every aspect of the hospitality experience from digital signage for reception and wayfinding (a great new revenue generator) to every aspect of the guest rooms and public areas.
We don't just supply products though as we completely understand that your guest rooms, bar areas, conference rooms and reception areas may have specific aesthetics with unique spaces and designs to blend in and represent your brand image. Bearing this in mind we can offer products that will suit the look and atmosphere you are creating whilst complementing your surroundings. We believe that such attention to detail will ensure a relaxed and comfortable environment for guests and staff.
Delight your guests with the warmest welcome
The right welcome and first impression is one remembered by your guests, which is why planning all aspects of your communal areas from reception areas to public lounges is essential.
An interactive touch screen could be the perfect way to minimise guest wait times and offer a virtual check in system, elevating your venue's level of sophistication.
A large format display or video wall can advertise your latest promotions, display your room rates or simply just create a visually pleasing aesthetic to welcome your guests.
Living in luxury
TVC specialise in providing digital hospitality and domestic TV solutions that cover all areas of the hospitality sector with over 18 years' experience in supplying hotels, holiday Parks, sports stadia, leisure centres, spas, restaurants, pubs, bars, yachts and luxury lodges. Guests are expecting the same experience, or in some cases better, in a hotel room than they would have in their own home.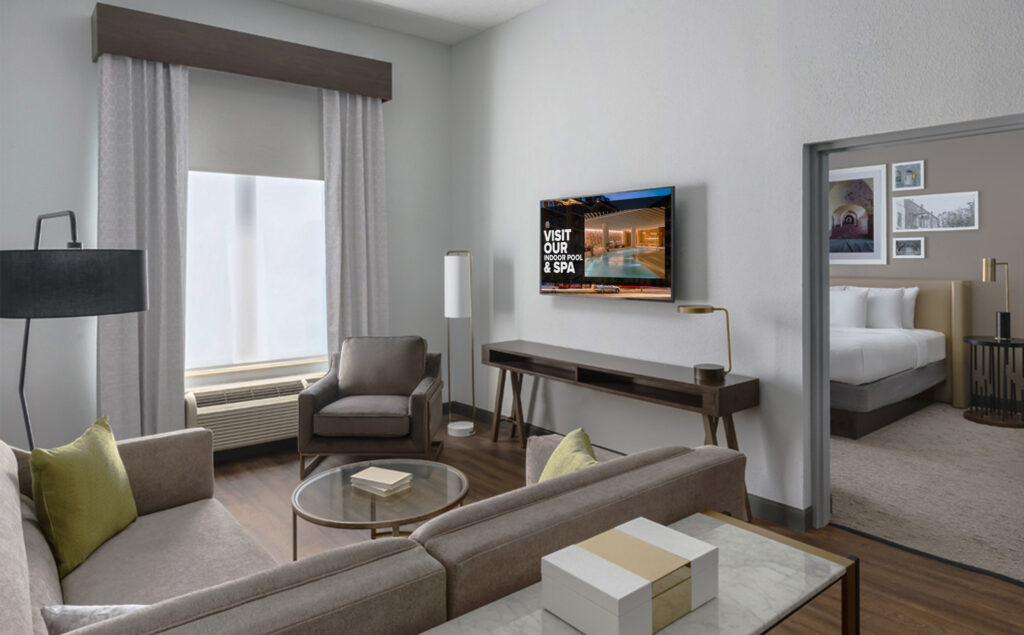 We take great pride in delivering the very best customer service to our clients in the hospitality sector whilst providing the service and expertise required to supply, install and maintain an extensive range of hospitality and domestic TV's from Philips, LG, Samsung, Toshiba, Sharp and more.
TVC have the total digital hospitality solution, whether you are looking to find an in-room hairdryer, the latest in-room security, the very best in hospitality televisions from all the major manufacturers or complete room automation systems. We combine our years of experience in the hospitality sector with solutions from all the major manufacturers to offer you and your guests the full package.
Installations and solutions
To get the best out of your AV solution, TVC assign a dedicated project manager to assess and evaluate your venue, providing you the best options for your space, at the best possible price.
Our highly skilled installation team make the transformation seamless, and can deliver, install and set up your equipment so you're ready to go as soon as possible.