The White Hart pub in Eltham has recently had an interior and exterior renovation, with a new snug area added and the main bar extended to create a brighter, fresher feel! The pub now hosts an array of the latest, audio, and visual equipment to create an interactive and lively environment. A total of ten new screens have been added, including one in the brand-new outdoor seating area!
Front Bar Area
A 32″ Samsung Hospitality LED TV has been installed behind the main bar and is being utilised as a digital advertising screen for the pub. The screen promotes food and drink specials as well as entertainment that customers can enjoy throughout the week!
A MySign digital signage media player powers the advertising screen. The user-friendly software has a range of digital signage templates, allowing staff to update, change and schedule the pub's promotions with ease quickly and easily.
We also installed one 55″ Samsung Hospitality LED and one 65″ Samsung 4K LED Hospitality screen. Both are positioned throughout the front bar area, guaranteeing that you can see a TV screen regardless of where you are seated. They are great for streaming any live sporting events for their guests, with their rich colours and high-contrast LEDs. These screens are also built to last, with reinforced ports and dust-resistant construction, making them ideal for commercial applications.
Finally, four Audac X6 80W loudspeakers are distributed around the front bar area to generate a surround sound feeling, helping to raise the overall atmosphere of the space when live sports or music is playing.
Rear Snug
The snug, which is located towards the back of the bar, has one new screen mounted on the chimney breast positioned perfectly for an ample viewing experience for watching any live sporting events on the 55″ Samsung LED TV Hospitality screen. Two 6″ Cloud Speakers have also been placed within the room, which provides broad and even sound dispersion across the room which is ideal for any event held at the facility and excellent for live music.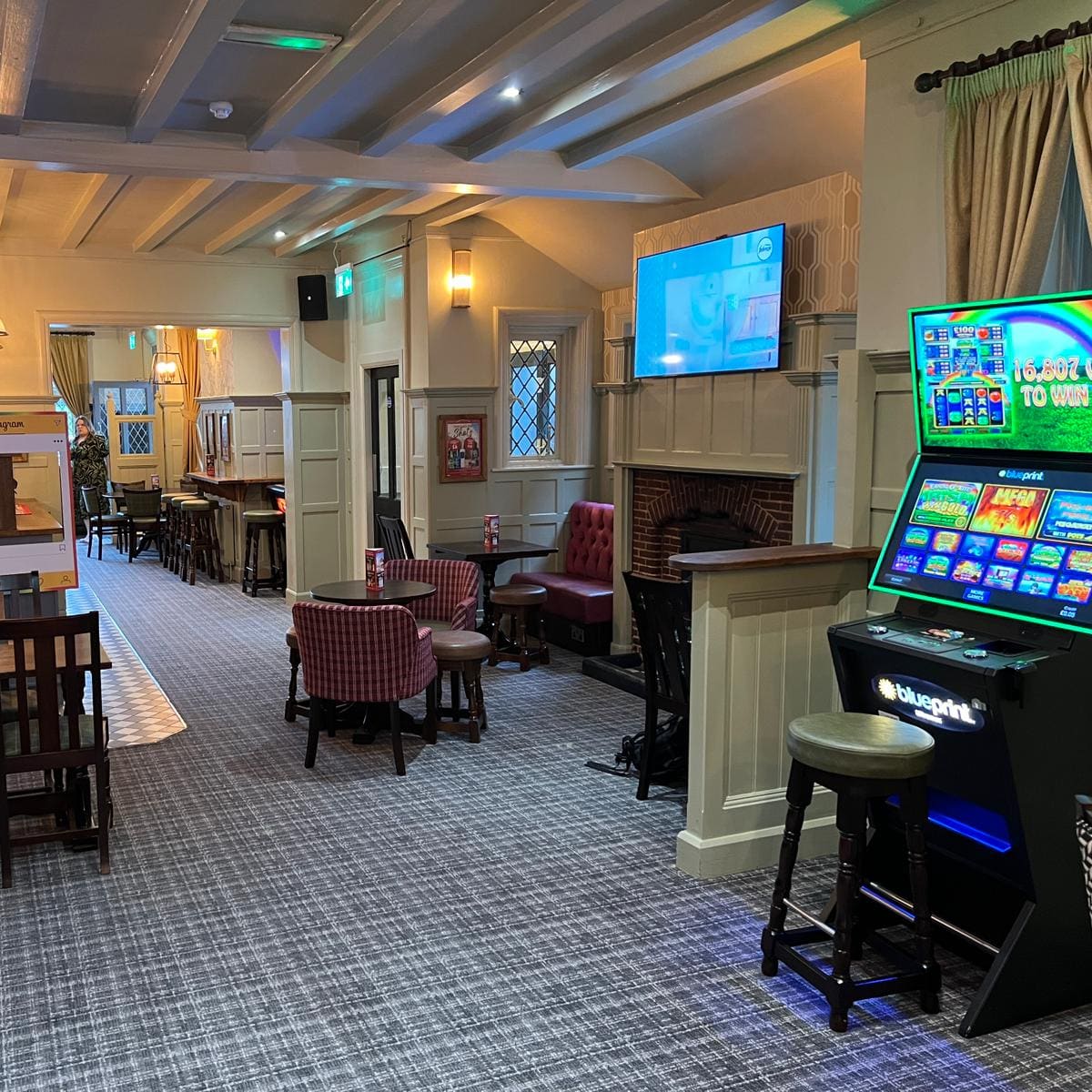 Side Bar
Three 55″ Samsung LED TVs were added to the sidebar. These screens are specifically designed to be placed in a commercial environment with a high-quality picture, having been created with durability in mind, guaranteeing they can function for a longer period when compared to standard/domestic TVs, making them ideal for pub settings. The additional Audac loudspeakers provide a deep and clear bass sound, significantly enhancing the audio experience within the pub setting which helps to boost the sensory experience keeping customers entertained and engaged.
Sports/DJ area
Two prominent 65″ Samsung 4K LED hospitality screens with smooth motion handling were added, meaning sports fans visiting the pub will be able to watch high-speed fast action content without any motion blur, and when paired with an Audac 12″ subwoofer, and four Audac V8" 175W loudspeakers achieve immersive audio, helping to enhance the overall environment within the pub.
Two medium lighting effects helped to transform the sports and DJ area, improving the ambience, and complementing the zone. Boosting the sensory experience as a whole and helping to keep customers entertained and engaged.
Outdoor Area
Finally, the outside area benefited from the installation of a brand new 55″ Samsung LED TV hospitality screen beneath the outside cover. It is housed in a custom TVC outdoor TV enclosure, allowing the screen to be left outside all year. The Outdoor TV enclosure is resistant to wind, rain, and other adverse weather conditions, resulting in a screen that can be used outside without the additional cost of a fully weatherproof outdoor TV. Jack & Kirsty, the new publicans at The White Hart, said: "We're so excited to be running such a great pub and we're really looking forward to welcoming many guests, old and new, back into the pub. We would love to see you down at the pub to see all the fantastic changes we have made here."