Video walls can be used in any commercial or public environment where you need to deliver video content to a large audience, either at once or over time.
We have vast experience installing video walls for a broad range of different clients, including bookmakers such as William Hill and Paddy Power,  and a multitude of large offices and shopping centres.
No matter what your environment, requirements or budget, we can design the right video wall solution for your brand message.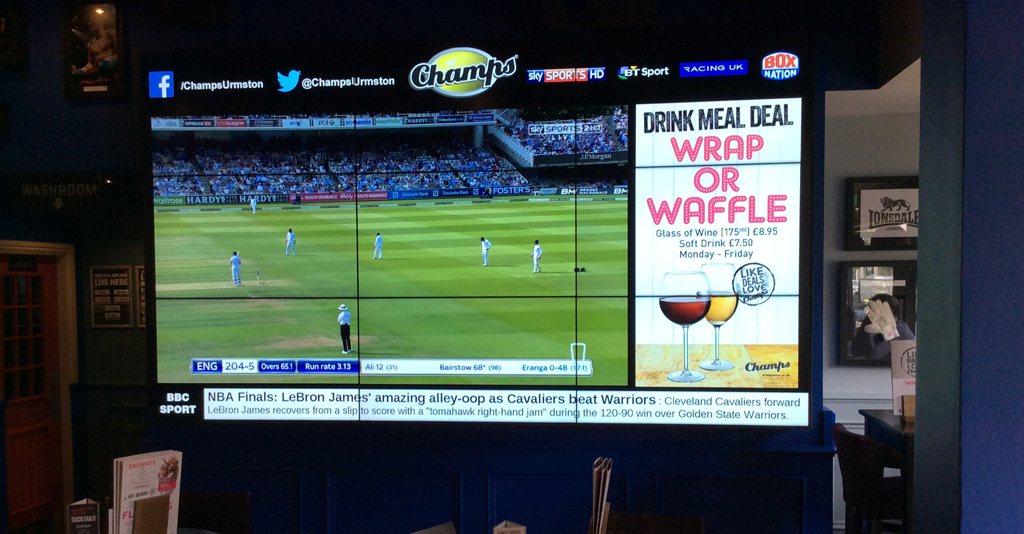 Configuration
The configuration determines the size and appearance of your video wall; they can range from 2×2 screens up to 100×100 screens depending on the space you have available, the mounting solution used, the make and model of the screens used and your budget.
Bezels – the 'gaps' between the screens – are also important, with smaller bezels adding to the illusion of one single giant screen.
We take all of these aspects into consideration when designing the configuration of a video wall. Using our vast knowledge and expertise, we can provide video walls that suit all manner of commercial and public environments, from large-scale outdoor video walls to cost-effective indoor solutions using smaller screens.
From traditional 'square' configurations to lines of screens to form a 'video strip', we have configured screens of all shapes and sizes  – whatever you have in mind for the configuration of your video wall, we'll do our best to make it a reality.
We are one of the UK's leading suppliers for Samsung Video Wall screens and supply screens in a multitude of sizes. We also supply screens from renowned manufacturers including NEC,Panasonic and Sharp, as well as screens with bezels as small as 2mm wide – which is practically invisible to the human eye.
Installation and Mounting Solutions
The installation and mounting of a video wall is as important as the configuration; without proper installation, a video wall cannot work properly.
We offer a variety of video wall installation and mounting solutions, all designed to suit a variety of different applications. These include:
Fixed mounting: Using quality, durable wall and ceiling brackets, as well as floor stands, we can mount your video wall in a permanent location.
Suspended mounting: For a more eye-catching installation, we can suspend your video wall from a secure ceiling.
Push-lock mounting: If you want to install your video wall in a recess, push-lock mounting provides the optimal solution, with multiple configuration options and access to the rear of the screen.
Modular mounting: Portable and easy to install, modular mounting is the ideal solution for temporary video walls.
We use only the highest quality mounting solutions when installing video walls. All of our mounting solutions are of a high-quality, durable and easy to install, and include products from trusted manufacturers such as BTech and Peerless. Our expert team of qualified installers ensure that your video wall is configured properly, secure and ready to go.